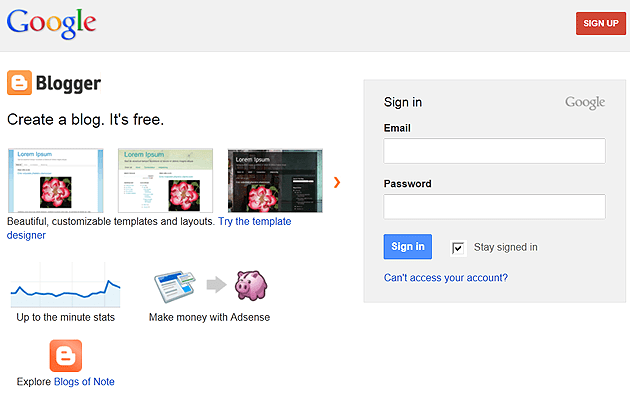 Now we already know what a Blog is, why we should have a Blog and we also know about WordPress blogging platform. Let's know about another popular blogging platform- Blogger or Blogspot. Blogger is the most popular free hosted Blog-Publishing platform on internet. It was started in 1999 by Pyra Lab and was later purchased by Google.
Blogger provides you free hosting on Google servers and a free domain. The domain that you will get will actually be a subdomain of blogspot.com. So, your blog URL will look like 'www.yourblogname.blogspot.com'. Blogger is very popular among beginner bloggers for following reasons:-
Almost everyone has a Google account. So you don't have to make another new account on some website.  Your Blogger account will be integrated with literyour exiting Google (ex. gmail) account.
It is easy as ABC. Blogging on Blogspot is literally a kid's play. Even if you don't have any technical knowledge at all, your blog can be online in 5 minutes.
Domain mapping, hosting, Search Engine Optimization, blog backup everything is handled by Google. You just have to write the content.
Blogger offers a decent collection of free templates and gives better customization options than many other free blogging platforms.
If you don't like '.blogspot.com' suffix you can use your own custom domain for free on Blogger.
Google even  allows bloggers to use Adsense advertisements on the free blogs (which many other platforms don't) and make money online.
It's absolutely FREE!
But there are some minus points as well:-
You have to abide by the Terms and Conditions of Google (though they are not very strict).
A blog on Google is like a rented online space. You don't have complete ownership on your blog. Google can remove it anytime if it wishes.
If your blog gets popular and you want to move to your self-hosting, the transfer process can be really lengthy.
Less customization option than self-hosted blog.
'.blogspot.com' tag does not look professional.
But as it's free there is no harm in trying. Go make a blog with Blogger, experiment with options and you always have the option to move to other free hosted blogging platforms or to make self hosted blog. Before that you might like to know 10 Reasons Why You Should Make a Blog.