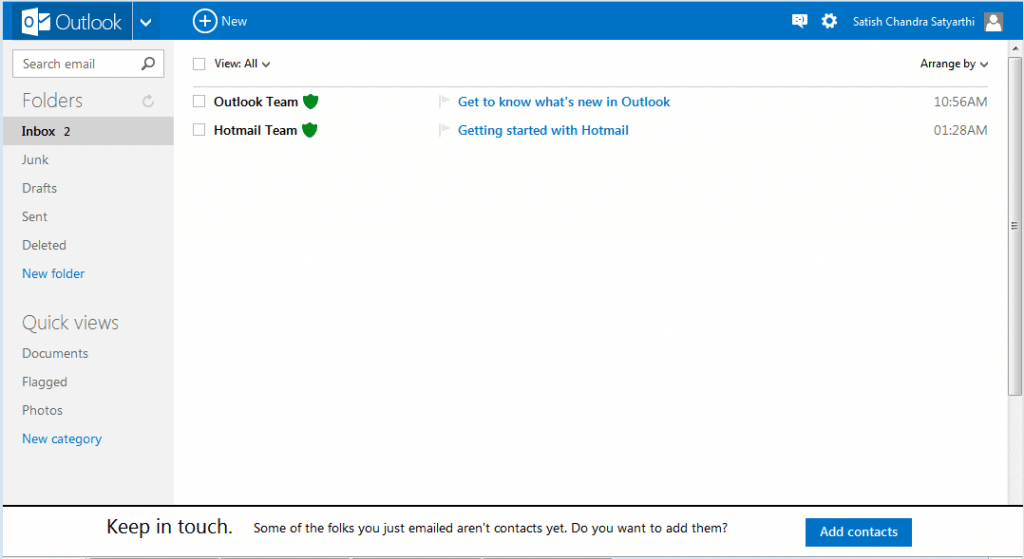 So If you haven't heard yet, Microsoft has launched its new New E-mail service yesterday. It's been named OUTLOOK.COM. Don't confuse it with the older kid of Microsoft – Hotmail. There were many reasons behind the declining popularity of Hotmail, the name itself being one of them. Seems Microsoft want to distance itself from the Hotmail and that's why it hasn't just renamed it as Outlook but made a brand new e-mail service completely separate from Hotmail.
Microsoft is not some new kid on the internet. It knows very well that it's difficult to make people switch to a new e-mail service leaving behind an old and reliable one (read GMAIL).  And Therefore it has attempted very hard to make Outlook more sophisticated and elegant than the existing e-mail services. I have been a loyal Gmail user for I don't know when but I was tempted to sign up when I first saw the design and interface of New  Outlook. It's really clean and intuitive.
As outlook has just been launched you can get 'yourname@outlook.com' if you hurry up. You don't need any invites (thank God). And as a bonus you will get a complimentary 7GB storage on SkyDrive when you sign up.
Here are a few quick points that I appreciated in Outlook:-
A clean design with No Ads in e-mails and sidebars (as in Gmail)
Built-in Social Networking – You can access Twitter and Facebook right from your E-mail Dashboard.
Less Spam. Though I can't say anything about it yet but they say Microsoft has worked hard to fight spam. If it's true it mean you not gonna get those million dollar lottery and Viagra mails now.
In-built Skype. Not functional yet. But they are going to launch it real soon.
Attachments up to 300 MB.. Now that's something I really love. Gmail, please wake up! The days of 25 MB files are gone..
All other Features that you expect from a decent e-mail client like Address book, Calender etc.
If you are not yet ready to leave your current e-mail service behind you can use a forwarding system to get all your e-mails forwarded to your brand-new outlook e-mail ID. That's it for now! 🙂