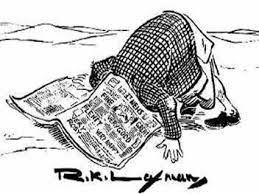 Indians love to talk about politics. Especially Indian men. From university professors and engineers on Facebook to the illiterate farmers in some rural part of the country – discussing and debating politics is the favorite past time of Indians.
Every Indian man seems qualified enough to sit in a TV channel discussion as a political commentator. Common people talk about political parties, politicians, national issues and electoral factors with so much confidence and conviction that even the experts on political issues would sound shallow before them.
Indians are argumentative by nature. They love to argue. And what other topic can trigger a heated debate than politics? On an average day, 60-70% of posts on my Facebook timeline are somehow political. And these days, in the season of parliamentary general elections, around 90% of the posts from my Indian friends are related to politics.
During my 3 and half years in Korea, I have observed that Korean people love to talk about personal life and food. If you observe the conversation between two or more Koreans, whether on social media or face to face, you will find that they are talking either about personal stuff like family, relationships, looks, health etc. or about food. Korean people are crazy about food. It's very common to find a group of people discussing which neighborhood restaurants and dishes are amazing or what they will be eating next time they meet or something like that. When they are at the eating table, a great part of the conversation is focused on the food, taste and other aspects of it. On the other hand, it's very common to find groups of Indian people discussing who is going to win the next elections over dinner.